Authentic Kenyan Holiday Delights
4 November 2016
The holiday season is beckoning. This is the time we entertain or get entertained. As we do so, we try to ensure that we out do our friends by throwing the best party characterized by certain Kenyan holiday delights. In fact, should any of these dishes be missing from your offerings, then your party is considered a flop.
To help you along, see below receipts of some of these authentic Kenyan dishes.
Recipe for Ugali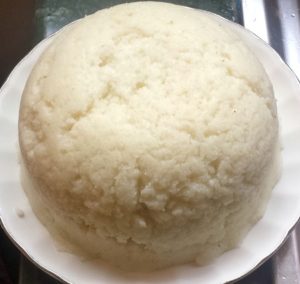 Ingredients (4 servings)
4 cups water
4 cups maize meal or corn meal flour
Bring water to a boil in a pan. Add the corn or maize meal and stir with a wooden spoon until the mixture is thick and smooth. Make sure it is not too stiff. Add boiling water if it is too thick. Gather the mixture in the middle of the pan and turn the heat to low. Cover the pan and leave it on low heat for 15-20 minutes, turning occasionally. Flip the ugali onto a plate and, after it cools a bit, form it into a "cake". Slice and serve with chicken, beef, fish or meat stew and a cooked vegetable dish or even sour milk (buttermilk).
Kenya Chapati Recipe – Round Flat Bread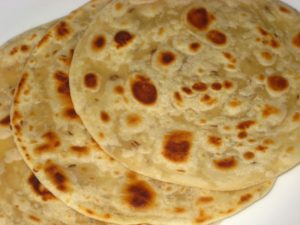 Ingredients (6 servings)
1 cup of whole wheat flour
1 cup white flour
2 tbsp oil or ghee
3/4 – 1 cup of warm water
Salt to taste
Mix the flour in a bowl and add salt and oil. You can mix with clean hands, or use a mixer or food processor. Add a little bit of water at a time and knead well for about 10 minutes until you have a stiff and smooth dough. Cover the dough and let it stand for at least 30 minutes up to two hours. Knead the dough well again and divide it into egg-sized balls. Dust each ball with extra flour. Flatten each ball and roll out thinly into sizeable circles.
Heat an ungreased, heavy skillet or griddle over a medium flame. Lightly grease the pan and slowly heat the first chapati. Cook on one side for about 1 minute or until lightly brown, then flip and brown the other side. Press the sides of the chapati with a spoon until it puffs. Remove the chapati from the skillet into a warm dish or foil paper and wrap it to keep it warm. Repeat this process for every chapati, wiping the pan with greased paper every time a new chapati is to be cooked.
Serve the chapatis warm with a meat stew and/or cooked vegetables. Chapatis can also be served with hot milk or chai.
Nyama Choma (Roast Meat)
Ingredients (3-4 servings)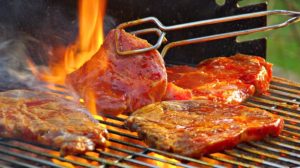 3 lbs beef, short ribs or spare ribs
Salt and pepper to taste
Season the meat with salt and pepper. Grill on a gas or charcoal grill over medium heat 30 minutes. You can also roast the meat in an oven at 300°F for 1¼ hours. Meat should be golden brown, tender and juicy when ready. Nyama choma goes well with ugali and kachumbari or cooked greens.
Roast Leg of Goat (or Lamb)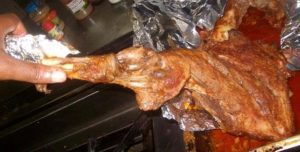 Ingredients (8-10 servings)
5 lbs leg of goat or lamb
5 garlic cloves
½ cup soy sauce
2 tbs corn oil
1tsp dried rosemary
Pinch of salt and ground black pepper
Score the goat or lamb and insert the garlic cloves into the meat. Mix the remaining ingredients and rub the meat thoroughly with this marinade. Let it stand covered for several hours. In an oven heated to 375°F, roast, roast the meat for 2½ hours. Brush it often with marinade. You may also roast or barbecue the meat on a grill but remember to brush it often with the marinade.
Kachumbari Salad Recipe
Ingredients (6 servings)
4 medium tomatoes, sliced
2 medium onions, finely chopped, washed with salted water, and drained
½ cup fresh squeezed lime or lemon juice
1 cup finely chopped cilantro, Dhania or parsley
3 grated carrots
Arrange the tomatoes on a serving platter with onions on top. Sprinkle the parsley (or cilantro) over the top. Place the grated carrots to one side. Splash the lemon juice over all. Do not toss. Serve cold with nyamachoma or pilau.