How to Make the Perfect Meat Beef Samosa – The Amaica Way
1 December 2015
Ever wanted to make the perfect beef samosas, try our recipe.
INGREDIENTS
Minced meat
Frying oil
Salt to taste
Chili powder
Ground coriander
Ground cumin
Garam masala powder
Turmeric powder
Chopped onions (a lot)
Fresh coriander
Samosa pastry (FILO)
Preparation Method of the Perfect Meat Beef Samosa – The Amaica Way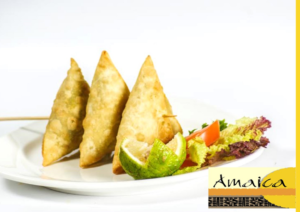 Fry onions, add spices and chilies until golden brown. Add the minced meat and fry until golden brown while stirring to avoid forming lumps, cook over low heat until tender, season accordingly and finally add the fresh coriander and let the mixture cool.
Fill the mixture in the samosa pastry (filo) in a triangular cone shape and stick the edges with a smooth flour paste. Good to fry…………………..Golden brown color please!!!!
After trying out the recipe, share with us your experience. Take a photo of your samosas, share the photos on our Facebook Page -https://web.facebook.com/Amaica-the-restaurant-251006288303251/ , Twitter handle @AmaicaKenya or on instagram- AmaicaKenya.